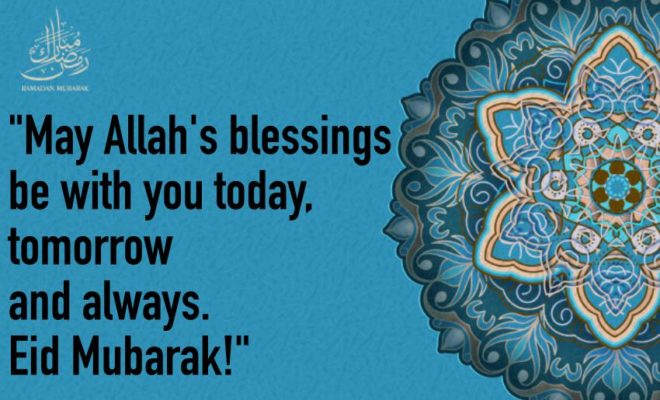 quotes
40 Ucapan Selamat Lebaran dalam Bahasa Inggris untuk Eratkan Silaturahmi
Penulis: |
Setelah sebulan penuh berpuasa akhirnya umat Muslim akan merayakan hari raya Idul Fitri. Hari ini bisa dijabarkan sebagai hari raya kemenangan.
Umat Muslim akan merayakan dengan kembali makan atau berbuka. Tak hanya itu saja, umat Muslim juga kembali dari keadaan suci.
Manusia digambarkan telah bebas dari dosa, kejelekan, kesalagan serta keburukan. Manusia akan berada pada fitrah dan kesucian.
Ada beberapa sikap yang seharusnya dimiliki seseorang pada saat kembali ke fitrahnya. Pertama, harus tetap istiqomah memegang agama tauhid yaitu islam.
Dalam kehidupan sehari-hari akan selalu berkata dan berbuat baik dan benar. Tetap menjadi hamba Allah yang selalu taat dan patuh kepada perintahNya.
Tak hanya memulihkan dan menyucikan hati, Idul Fitri juga punya tradisi yang pastinya dirindukan oleh banyak orang.
Di Indonesia, hari raya Idul Fitri juga kerap disebut dengan Lebaran. Kata Lebaran berarti lebar-lebur-luber-labur yang berasal dari istilah Jawa. Lebar artinya seseorang terlepas dari kemaksiatan dan lebur artinya lebur dari dosa.
Luber artinya pahala sementara luber dari keberkahan ramhat SWT. Sementara kata Labur artinya bersih karena setiap orang benar-benar menjadi bersih setelah berpuasa. Maka dari itu, banyak orang Indonesia yang menyebutnya sebagai Lebaran.
Dalam tradisi ini, biasanya masyarakat Indonesia akan mengkonsumsi makanan khas yaitu ketupat. Istilah jawa mengatakan bahwa ketupat berarti ngaku lepat.
Artinya mengakui keselahan. Selain itu, bentuk segi empat mempunyai makna kiblat papat lima pancer. Artinya empat arah mata angin dan satu pusat yaitu Allah SWT.
Warna putih ketupat juga melambangkan kebersihan setelah saling bermaafan. Butiran beras dalam janur juga merupakan simbol kebersamaan.
Sementara janur yang dipakai untuk membungkus ketupat berasal dari jaa-a-al-nur yang artinya cahaya telah datang.
Selain hidangan pastinya umat muslim punya kebiasaan untuk saling mengucapkan maaf dan salam. Untuk menambah semarak hari raya, berikut sederet ucapan selamat lebaran yang bisa kampu pakai.
Tidak hanya memakai bahasa Indonesia saja, ada pula ucapan yang menggunakan Bahasa Inggris. Tentu hal ini akan menjadikan momen Lebaran semakin spesial.
1. "And the men and the women who remember Allaah much with their hearts and tongues. Allaah has prepared for them forgiveness and a great reward" – Al Ahzaab 33:35
2. "Today is the day to pray, remember Allah, spread love, and celebrate with our loved ones. Eid Mubarak to you!"
3. "May Allah accept your sacrifice and fulfill your desires in life. Wishing you a very happy Eid!"
4. "In every shared smile and laughter; In every silent prayer answered; In every opportunity that comes your way – may Allah bless you immensely! Eid Mubarak"
5. "May God give you happiness of heaven above. Happy Eid Mubarak To You All."
6. "May Allah open the doors of happiness and prosperity for you. Eid Mubarak to you and your family. Enjoy a blessed time during this Eid."
7. "Before we ask for happiness and prosperity, we should ask for mercy. May Allah shower his mercy on us. Eid Mubarak!"
8. "May Allah flood your life with happiness on this occasion, your heart with love, your soul with spiritual, your mind with wisdom, wishing you a very Happy Eid."
9. "I wish you and your family a very joyful Eid. May Allah accept all your prayers and forgive all your faults. Eid Mubarak!"
10. "May God's blessings and kindness be with you and your family, always! Eid Mubarak!"
11. "Let this Eid open your mind with new fresh thoughts."
12. "May this special day bring peace, happiness and prosperity to everyone. Eid Mubarak!"
13. "With the sight of the new moon, Ramadhan Kareem is finally over. May Allah (SWA) grant us the Tawfeeq to apply the gems of wisdom from Ramadhan into our daily lives. Happy Eid al Fitr Mubarak."
14. "May this Eid bring joy and love to your heart and create all the opportunities of success for you! Eid Mubarak."
15. "On this holy festive, wishing you a day filled with lots of laughter and happy moments. Eid Mubarak from my family to yours!"
16. "Eid Mubarak to you and your family. May the Almighty accept your prayers and bless you with the rewards of Ramadan. Have a safe Eid!"
17. "The holy month of Ramadan was celebrated with devotion. Now it's time for Eid. On the occasion of Eid-ul-Fitr, my best wishes to all." – Honourable Prime Minister Narendra Modi
18. "May Allah's blessings be with you today, tomorrow and always. Eid Mubarak!"
19. "Today I pray that- Happiness be at your door, may it knock early, stay late and leave the gift of Allah's Peace,love,joy and good health behind"
20. "May Allah place the mercy upon all the Muslims all around the world on this happy occasion of Eid! Eid Mubarak to everyone celebrating!"
21. "No shadows to depress you. Only joys to surround you. Allah himself to bless you. These are my wishes for you. Today tomorrow and every day… Eid Mubarak!"
22. "When moon of Eid arises it makes all of us so happy and excited. May all of your times be full of such an amusing excitement and happiness. Happy Eid Day!"
23. "Eid Mubarak to you and your loved ones! May God accept our prayers, good deeds and sacrifices and shower us with his holy blessings."
24. "When my arms can't reach people close to my heart, I always hug them with my prayers. May Allah's peace be with you. A very Happy Eid Mubarak to you"
25. "To my dearest friends and family, a sincere Eid Mubarak to you all. May Allah(SWA) enrich our lives with happiness, peace and prosperity."
26. "At the end of this Holy month, Eid is finally here to grace us with happiness and prosperity. May this day be ever so joyful for us! Eid Mubarak!"
27. "Eid is a wonderful and nice day to Pray, Care, Love, Smile and Celebrate with one another and to thank Allah for giving us this wonderful day. Eid Mubarak!"
28. "Wish you and your family the blessings of Allah, the kindness of Allah and help of Allah on this day of Eid. Eid Mubarak!"
29. "May you find a million reason to make your life more beautiful on this day. May the joy of Eid be multiplied a thousand times and stay with you forever. Eid Mubarak!"
30. "Wishing you and your family a very happy, prosperous and blissful Eid Day!"
31. "Eid days are meant to celebrate the goals and the achievements that make you happiest. The ideals you believe in, the dream you love the best. Eid Mubarak!"
32. "May this Eid brings you joys unlimited, may all your wishes come true on this holy day and may you and your family be blessed by the grace of Allah. Eid Mubarak!"
33. "With an incomparable joy in my heart, I wish you all a blessed Eid Mubarak. May the Almighty help us all become virtuous men and women."
34. "Spending Eid with friends and family with lots of delicious food is a pure blessing; consider yourself lucky if you have them in your life! Eid Mubarak."
35. "If they seek peace, then seek you peace. And trust in God for He is the One that heareth and knoweth all things." – Quran 8:61
36. "Take a break from living in stress and this is Eid so let's celebrate! You are welcome to join us. Life is so endlessly delicious. Happy Eid Day!"
37. "May this Eid be the beginning of another successful year in your life. Eid Mubarak to you and your lovely family!"
38. "Let all your obstacles vanish in just a friction of second. Happy Eid!"
39. "Let this Eid be the occasion of sharing the love and caring for the people who need to be loved and cared. Eid Mubarak to all!"
40. "Start living now and stop worrying about tomorrow. Life is too short to spend in tension. Just enjoy every moment of every day. Thinking of you on this Eid Day."
Itu dia sederet ucapan selamat saat Lebaran yang akan menemani kamu dalam menyambut hari yang fitri. Ungkapan ini juga dapat mempererat tali Silaturahmi loh.