Homeroom merupakan drama asal Jepang yang diadaptasi dari sebuah serial webcomic karangan Chiyo dengan judul sama.
Tayang perdana pada 23 Februari 2020 di channel MBS. Drama dengan genre romantis ini tayang setiap Kamis pukul 00.49 waktu Jepang.
Drama yang menceritakan tentang seorang murid yang jatuh cinta dengan gurunya ini dibintangi oleh Yuki Yamada dan juga Shiori Akita.
Di dalam drama ini, Yuki berperan sebagai guru, sedangkan Shiori berperan sebagai murudnya. Sebelum membintangi drama Homeroom, Yuki sebelumnya membintangi drama Sedai Wars, sedangkan Shiori sebelumnya membintangi drama The Flowers of Evils.
Baca juga: Sinopsis Well Intended Love Season 2 Episode 1 – 16 Lengkap
DETAIL HOMEROOM
Judul: ホームルーム / Homeroom
Genre: Drama, Romantis
Negara: Jepang
Sutradara: Yuki Kobayashi
Produser: –
Penulis Naskah: Chiyo (webcomic), Jun Tsugita
Rumah Produksi: –
Channel TV: MBS
Jumlah EpisIode: 10 Episode
Masa Tayang: 24 Januari 2020 – 27 Maret 2020
Jadwal Tayang: Kamis pukul 00.49 waktu Jepang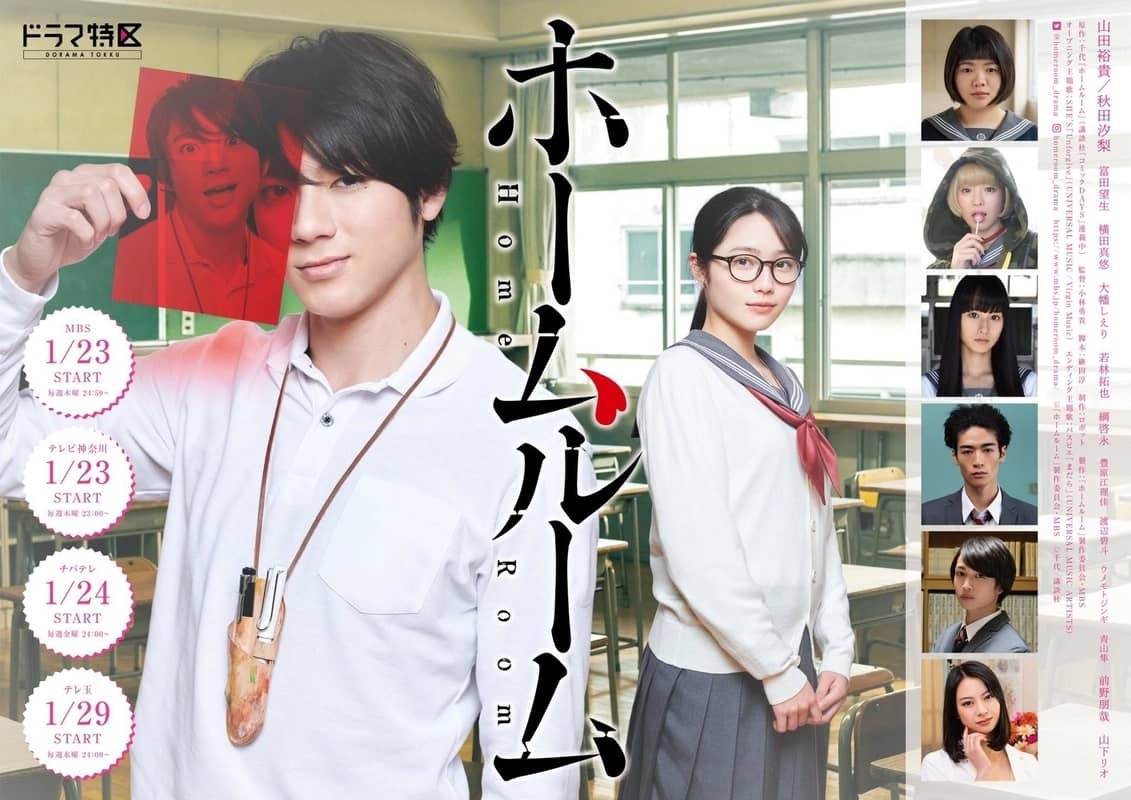 PLOT CERITA HOMEROOM
Drama yang diadaptasi dari sebuah webcomic ini menceritakan seorang guru tampan bernama Rintoro Aida (Yuki Yamada), ia seorang wali kelas di sebuah sekolah swasta.
Kemudian di sekolah tersebut juga ada seorang murid perempuan bernama Sachiko Sakurai (Shiori Akita).
Suatu kali, Sachiko murid dari Rintoro dihadapkan dengan situasi yang tidak menyenangkan, Rintoro berhasil menyelamatkan Sachiko dari situasi yang tidak menyenangkan tersebut.
Sejak kejadian itu, Sachiko menyukai Rintoro. Apakah Rintoro juga menyukai Sachiko?
Baca juga: Sinopsis Extracurricular Episode 1 – 10 Lengkap
SINOPSIS DRAMA JEPANG HOMEROOM EPISODE 1 – 10 TERAKHIR LENGKAP
PEMERAN UTAMA
Yuki Yamada sebagai Rintaro Aida
Shiori Akita sebagai Sachiko Sakurai
PEMERAN PENDUKUNG
Miu Tomita sebagai Nobuyo Maruyama
Mayuu Yokota sebagai Yua Natsume
Shieri Ohata sebagai Nana Shiratori
Takuya Wakabayashi sebagai Tadashi Takenouchi
Keito Tsuna sebagai Ken Yahagi
Tomoya Maeno sebagai Shinichiro Mori
Rio Yamashita sebagai Megumi Shiina
Erika Toyohara sebagai Hoshi Yamamoto
Aoto Watanabe sebagai Kota Inui
Jingi Umemoto sebagai Makoto Yazawa
Jun Aoyama sebagai Guru Onchi