Salah satu boyband yang sedang banyak digandrungi adalah BTS. Boyband asal Korea ini sudah sangat mendunia bahkan sampai ke seluruh dunia. Sebenarnya apa yang menyebabkan BTS begitu banyak penggemar?
Pertama, boyband ini selalu menomorsatukan penggemar. Bagi BTS, fans adalah segalanya. Mereka menganggap bahwa apa yang terjadi pada mereka seperti saat sekarang adalah dari fans. Bahkan setiap mendapatkan penghargaan, ARMY, sebutan untuk fans BTS adalah nama yang disebut.
Ini jadi bukti nyata bahwa BTS selalu menomorsatukan fans. Mereka selalu berterima kasih atas dukungan ARMY. Hal inilah yang membuat BTS jadi selalu aktif di media sosial.
Bahkan tak jarang mereka membalas komentar dari para fans. Komunikasi ini yang akhirnya membuat banyak orang semakin menggemari boyband satu ini.
Tak heran bila BTS bisa memenangkan Billboard Music Award untuk kagetori Top Social Artist. Prestasi ini bahkan mengalahkan Ariana Grande, Selena Gomez dan Justin Bieber yang menjadi nominasi lainnya. BTS selalu memberikan informasi mengenai apapun yang akan mereka lakukan.
Terakhir pastinya dari lagu yang mereka nyanyikan. Ternyata lirik lagu dari BTS memiliki banyak makna mengenai kehidupan.
Lagu yang dinyanyikan tak hanya sedekar lirik biasa saja. Maka banyak ARMY yang sangat jatuh cinta dengan lagu BTS karena sangat menginspirasi.
Misalnya lagu Spring Day yang menceritakan soal kerinduan terhadap sahabat. Atau ada lagu yang berjudul Answer: Love Yourself.
Lagu ini dibuat supaya banyak orang yang mulai mencintai diri sendiri. Tentu saja lagu ini memuat pesan positif tersendiri bagi para penggemarnya.
Bahkan, mereka juga punya lagu yang dipersembahkan khusus untuk ARMY. Misalnya 2!3! (Still Wishing There Will Be Better Days) dan Magic Shop. Maka tak heran jika semakin banyak penggemar BTS di seluruh dunia.
Kamu sendiri juga bisa mengambil nilai positif yang terkandung dalam lirik BTS. Rata-rata lagu tersebut menyemangati diri sendiri dan memberikan inspirasi dalam menjalani hidup.
Nah, berikut sederet kutipan lagu BTS yang bisa dijadikan quotes penyemangat bagi kamu yang sedang mengalami masalah.
Baca juga: 30 Kata Romantis dan Penuh Cinta dari Fiersa Besari
1. "I have come to love myself for who I am, for who I was, and for who I hope to become" – RM
2. "I don't have the right. I should just keep on doing what I'm good at" – Anpanman
3. "Dream, hope, forward, forward" – Young Forever
4. " Put your hand on your heart and ask what your dream was. What it really was." – O!RUL8,2?
5. "Let's not listen and just let'em talk no matter what they say. I become more confident the more they say" – Love Maze
6. "What is the you that you dreamed of? Who do you see in the mirror? I gotta say go on your path. Even if you live for a day, do something. Put away your weakness." – No More Dream
7. "Love is perfect with love" – Fake Love
8. "I'm the one I should love in this world, me, who shines, my precious soul. Though I may lack some things, I'm so beautiful" – Epiphany
9. "It's all right to not have a dream, if you have moments where you feel happiness for a while." – Paradise
10. "Adults tell me that hardships are only momentary to endure a little more, to do it later. Everybody say NO! It can't be any later Don't be trapped in someone else's dream." – N.O
Baca juga: 30 Kata Mutiara Bijak Aa Gym yang Bikin Semangat Hidup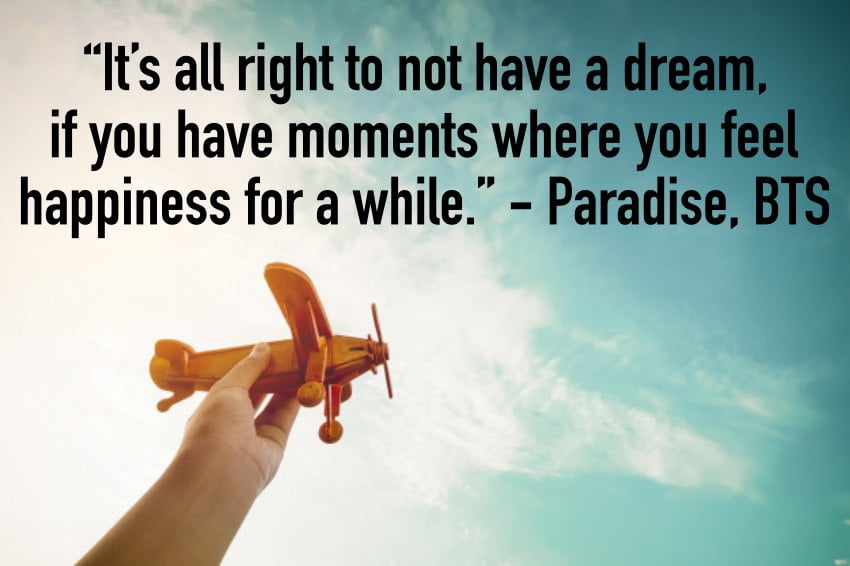 11. "But in the end, spring will come someday. The ice will melt and flow away" – Singularity
12. "I believe in myself; My back hurts in order to let my wings sprout." – Wings
13. "No matter what you call me, I don't care, I'm proud of it. I'm free. You can't stop me lovin' myself. It's okay, I'm in love with my myself" – IDOL
14. "90% of your worries are an imaginary swamp that you created. Just go instead of worrying. Don't get scared, cheer up!" – So What
15. "I still believe, even though it's unbelievable: To lose your path is the way to find that path." – Lost
16."Open your eyes under the cold blue sky, the pouring sun makes me dizzy. My breath is quickening, my heart is racing I can feel it so easily that I'm alive" – I'm Fine
17. "Teamwork makes the dream work" – RM
18. "There's not much difference from yesterday. In the same day to day activities, only you don't exist" – 134340
19. "On days where I hate myself for being me, on days where I want to disappear forever, let's make a door. It's in your heart." – Magic Shop
20. Who says a dream must be something grand? Just become anybody. We deserve a life. Whatever, big or small, you are you after all." – Paradise
Wah ternyata lirik lagu BTS tak hanya sekedar cinta-cinta semata. Ternyata memang bisa jadi penyemangat. Tak hanya bagi fans saja tetapi bagi semua orang yang mendengarkannya.